Regular price
Sale price
$7.00 USD
Unit price
per
Sale
Sold out
Share
Hand-poured, Eeveelution-themed, soy wax candles with coordinating scents. Sure to please any Pokemon-lover!
Eevee-nilla

is based on ever-popular Eevee and features a pleasant and simple vanilla scent
Aqua-blossom

is based on graceful Vaporeon and features a fresh floral reminiscent of orchids and dew.
Cinna-flare

is based on fabulous Flareon and features a sweet n' spicy apple-cinnamon scent.
Citru-spark

is based on spunky Jolteon and features a zesty lemon scent.
Moon-mist

is based on mysterious Umbreon and features a smooth, masculine, misty scent
Psy-bloom

is based on elegant Espeon and features a mature hypnotic floral scent blending violet, lavender and saffron.
Mossy-glen

is based on vivacious Leafeon and features the verdant scent of oakmoss warmed with amber
Aurora-mint

is based on gorgeous Glaceon and features the crisp scent of peppermint and eucalyptus
Sylvi-sweet

is based on adorable Sylveon and features a delectable strawberry cheesecake scent.
Made from 100% natural and undyed soy wax, using a lead- and zinc-free paper and cotton wick. The fragrance oils used are phalate-free and may partly contain component amounts of various essential oils. These fragrances are used in accordance with International Fragrance Association (IFRA) standards to be safe to use around people and pets. Please trim the wick to roughly 3cm in length before each use and observe safe practices while burning. After being used up, the candle jar may be cleaned out and repurposed as you see fit.
2.75 inches tall and measuring 2.25 in diameter. Contains roughly 3.5 ounces of wax by weight.
View full details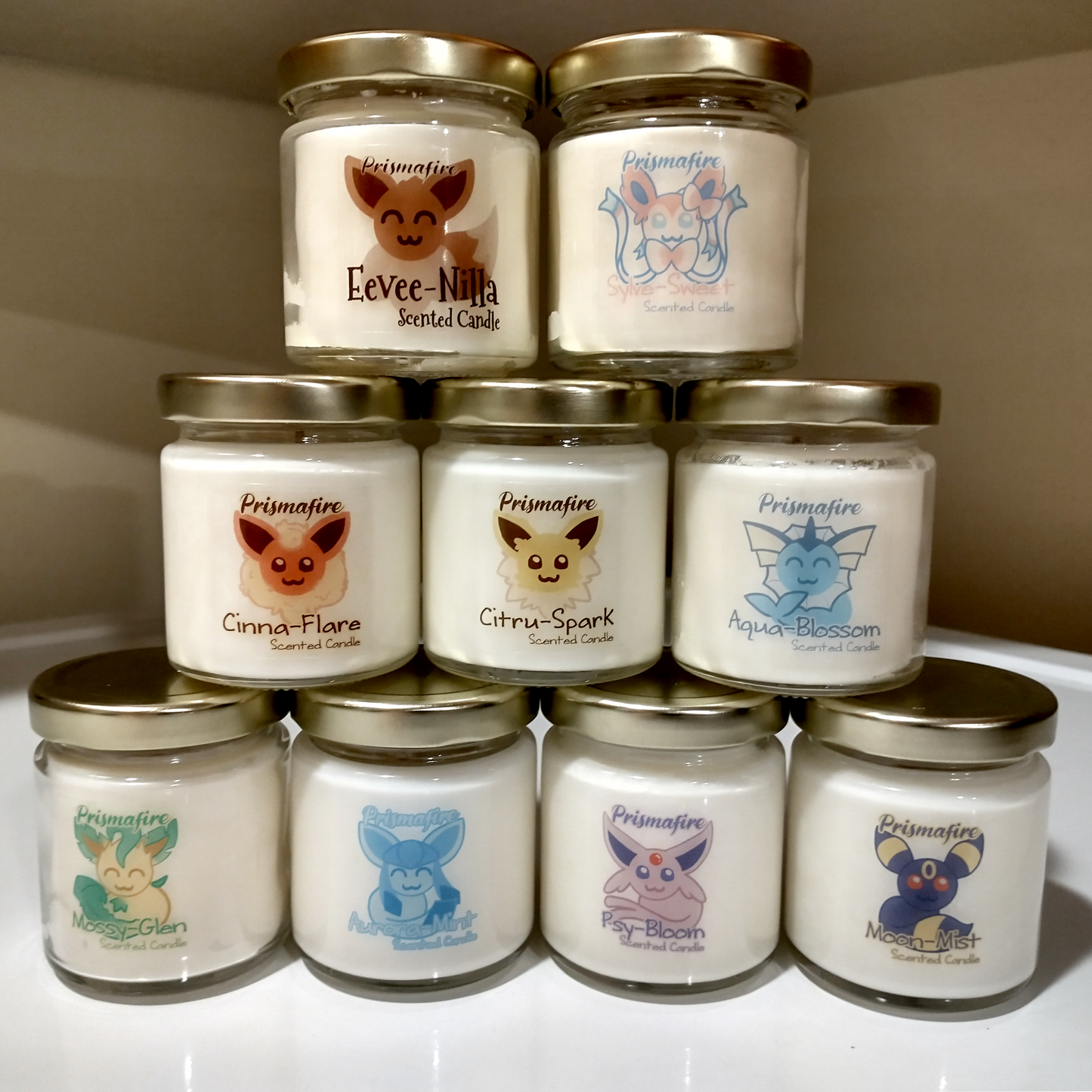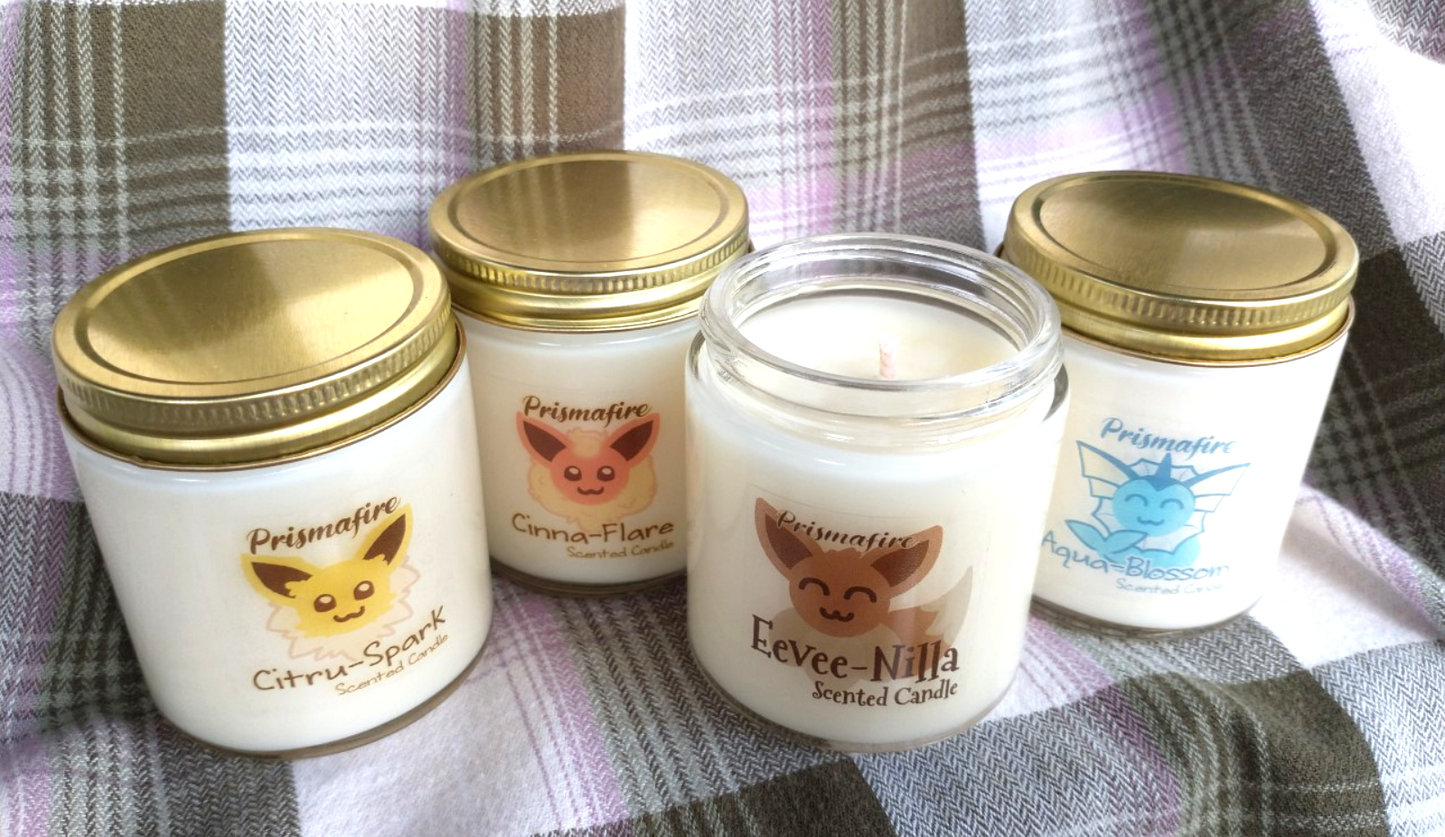 Shipping

Packages are shipped 1 to 4 days after an order is submitted. All orders receive tracking numbers. Please allow 1 to 2 weeks for domestic orders and more for international orders.

Returns

All sales final. Returns and exchanges may be done on items that arrive damaged. Please contact us with any concerns about defective shipments.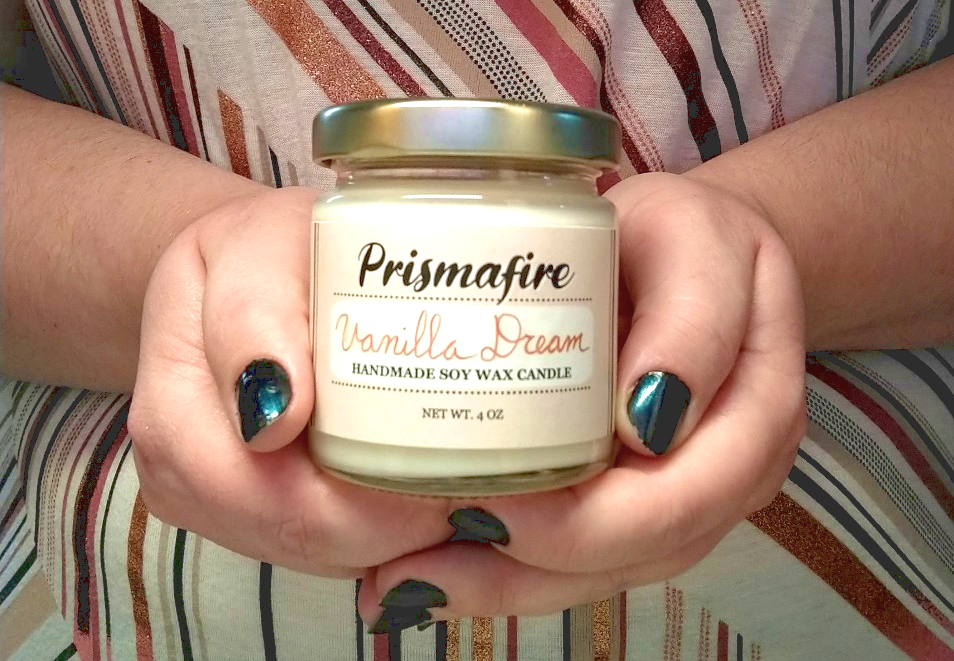 Thank you for Supporting a Small Business
When you support Prismafire you make a difference in my life. You support me and my dream to share my creativity with others.